Thank you all for your kind, supportive comments on Friday's post. It's nice to hear that I'm not the only one who's taking a while to figure out what to do with my life.
T-shirt: JCPenney; skirt: Merona, Target; earrings: Target; necklace: Towne & Reese via Style Obsession giveaway; belt: Loft; espadrilles: NY & Co.
Today's Inspiration Monday photo from Two Birds is of Louise Roe, another celebrity I've never heard of. Clearly, I need to brush up on my pop culture. Well, whoever she is, I really like her printed pencil skirt paired with a coordinating sweater and colorful shoes.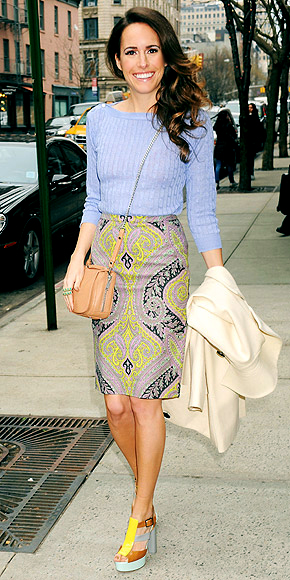 There's something about this skirt that makes me want to pair it with this green t-shirt. In fact, for some reason I rarely wear this t-shirt with anything else. It's very strange.
Happy Monday! (Yes, I realize that's quite an oxymoron.)