As I write this post, it's Sunday night, and the Kansas City area is anticipating its first snowstorm of the year. As a teacher, naturally I'm hoping for a snow day tomorrow. The chances of that happening are very slim, but that doesn't mean I'm not hopeful.
Coat: Loft; sweater: Target; jeans: Gap; scarf: Old Navy; shoes: Sam Edelmen, Hemline Boutique
I thought about doing a "snow day dance", but I realized I don't really remember what all that entails. I'm pretty certain it involved turning my pajamas inside out and spinning around in a few circles, but beyond that the details are fuzzy, at best. I have no doubt that all the snow-crazed students in the area will pick up my slack. Here's hoping it works!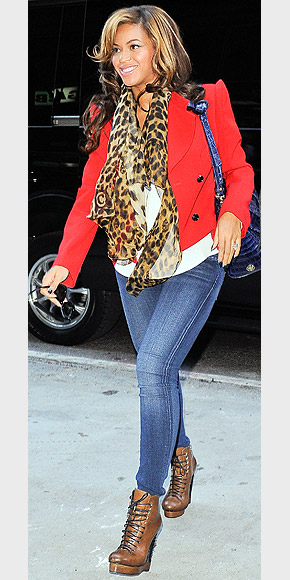 Today's Inspiration Monday from the Two Birds blog is the photo above of Beyonce. I don't own any red outerwear, so I mixed up the color scheme a little. I also swapped the leopard spots for polka dots. I wore this out to dinner with family, and my only regret was that my pants weren't stretchier. I ate way too much!