La mode:
Even though I truly enjoy writing this blog and reading other blogs, it's been nice to take a little break from the blogosphere. I've spent these past few days hanging out with family, reading, doing a little shopping, and exploring on my new iPhone. Not to mention, I've relished sleeping in past 5 am.
Sweater: Loft, gift; jeans: thrifted Gap; shoes: Merona, Target, gift
I know I'm a few days late on this, but since I missed out last week, I wanted to be sure to join the Two Birds girls for Inspiration Monday this week. Black, white and red is such a classic combination. While I love Ashley Tisdale's take, I wanted to make it much more casual for a day of shopping and hanging out. (Basically, I wanted to wear jeans.)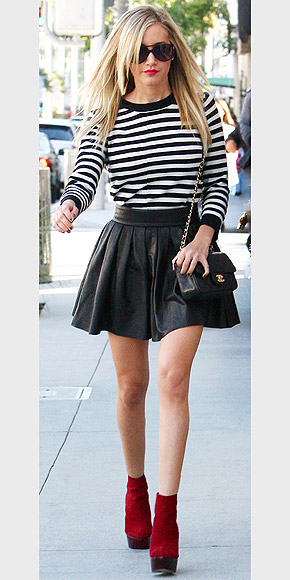 I got this sweater for Christmas, and I absolutely love it. You know me and stripes—I can't get enough of them! It was one of those presents I couldn't wait to wear. Did you get any gifts you had to show off right away?