La mode:
What a beautiful fall weekend we just had. The only less-than-beautiful aspect was my allergies, but as far as the weather went, it was perfect. I want to savor as many of these days as I can, because I know that the yucky winter weather will arrive too soon.
Cardigan: American Eagle; dress: Target; earrings: Target; necklace: Poppy Madison; belt: Target; tights: Merona, Target; boots: Mia via DSW
This week's Inspiration Monday photo of Pippa Middleton was fitting for the weekend's lovely weather. Any warmer and I would have ditched the tights; any colder and the cardigan wouldn't have been enough. But I was perfectly comfortable and rather-well styled too, thanks to the Two Birds gals and Pippa.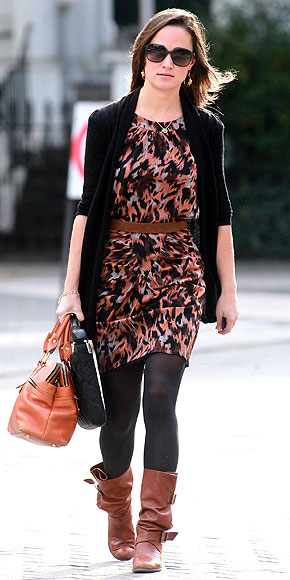 How was your weekend? Were you able to enjoy some nice weather?
Sucré [sweet]:
Have any extra Halloween candy lying around? (Are you laughing at me right now? Typically that's laughable in our house too, but we overstocked a little this year.) Anyway, I saw this great idea on Brown Eyed Baker for Leftover Halloween Candy Bark.
It's a fun way to use up any leftovers you have, plus it's ridiculously easy to make. All you do is melt chocolate, chop up some candy of your choosing and sprinkle it over the melted chocolate. Then you put it in the fridge to harden.
In her recipe she melts white chocolate and drizzles it over the hardened bark, but since I'm not a white chocolate fan I skipped that step. Since you get a mixture of different candies in each piece, it's the ultimate candy craving satisfaction!