Le week-end: It's never a good sign when I'm worn out before Monday even begins, but that seems to be the case this week. What a busy weekend! Friday night Aaron and I enjoyed some Thai food and then decorated some pumpkins. Unfortunately, my pumpkin is the only one that survived the weekend. We came home Saturday evening to find a squirrel nibbling on Aaron's pumpkin; he must have been pretty hungry, because he left a huge hole where the face once was!
T-shirt: Old Navy; sweater: Forever 21; jeans: Loft; flats: Gap
Saturday I did some shopping with my best friend Abby and her mom. We went to Holiday Mart, a shopping extravaganza (read: convention center filled with booth after booth of jewelry, home décor, food, etc.) put on by the Junior League of Kansas City. While I did splurge and buy myself one thing, the rest of my purchases were Christmas gifts. (I know, I'm so good.)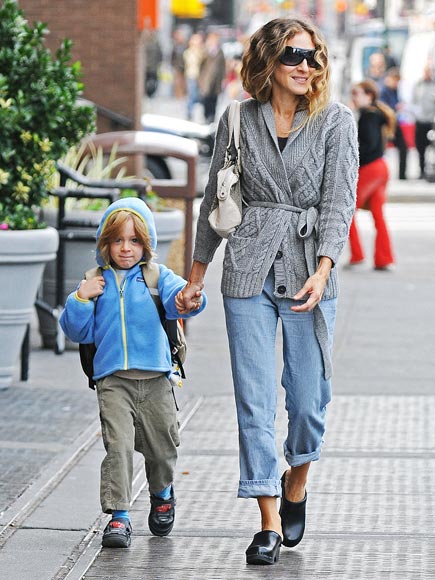 I wore this comfortable, shopping-ready outfit on Saturday. It was inspired by this week's Inspiration Monday picture (above) of Sarah Jessica Parker. Be sure to check out more looks inspired by this one at Two Birds blog!
And here's Aaron's pumpkin, pre-squirrel. Scary right?
Here's mine. I give you: Miu Miu pumkin! If I had more time, I would have liked to add another one with an allover cat print, and maybe bats (which I realize isn't Miu Miu, but it is Halloween-y) too. But I was DONE after all those swallows.