La mode: Is it sad that October just begun, and I'm already counting down the days until Winter Break? I feel like a standard weekend isn't enough time to recharge and get everything done that needs to be done. That's life, I suppose.
Shirt: Target; jeans: Loft; necklace: boutique in Boulder, CO; shoes: Sam Edelman, Hemline
For today's Inspiration Monday, the ladies at Two Birds are doing things a bit differently. Instead of one inspiration picture, they chose three, so it's up to the participants to choose which look to recreate. I chose the picture below of Audrina Patridge, because it was the most casual of the three.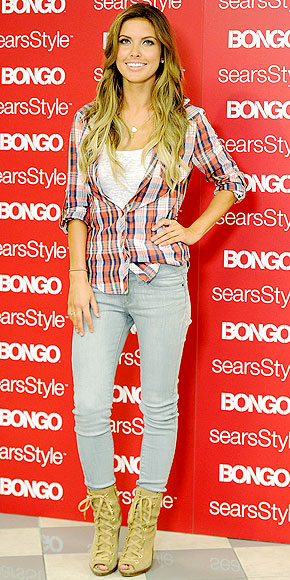 I wore this look to run errands and grade papers while cheering on my K-State Wildcats to a victory, so I needed something pretty casual. I like how it turned out; it's easy and comfy, plus the shoes add a little funk. However, I didn't end up wearing this for long—apparently it's too early for flannel button-ups. This shirt may have to hang out in my closet until at least November. Are you breaking out the fall clothes in full force yet, or is it still too warm where you are?
I've also decided to link up to the Bon Bon Rose Girls' Monday Mingle today--so head over there to check out some stylish ladies!