La mode:
Happy Halloween! I hate to be a bore, but other than handing out candy to trick-or-treaters, I'm doing absolutely nothing for Halloween this year. I've been too busy to even put together a costume, so I suppose it's a good thing that Halloween falls on a Monday.
I guess I can't say I did nothing for Halloween—I did work the concession stands at a junior high haunted house for a French Department fundraiser. But since the only people dressed up were the people working in the haunted house, I'm not sure it counts. The spookiest part of the night for me was the overcooked, congealed nacho cheese.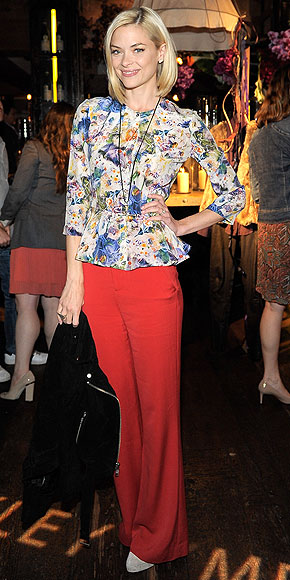 Today's Inspiration Monday look is the one above of Jaime King. Since the only pair of red pants I own is a much more casual pair, I did a dressed down version of her look. To see more Inspiration Monday looks, be sure to check out the Two Birds blog.
Any Halloween plans for you tonight?