La mode: It may not be official until Friday, but fall is definitely in the air. While I was too busy (or more aptly, lazy) to do the summer to fall wardrobe switch, I did break out my boots this weekend. I don't look forward to trying to cram all my heavy sweaters and jackets into my teeny tiny closet that barely contains my lightweight summer wear, so it's a job I procrastinate as long as I can.
Boots, however, are an easy change-up. Also, they're a way to put off the wearing of the tights for a little bit longer. I love tights, but I start to get a little tired of wearing them after a few months. Therefore, I procrastinate on this too.
This outfit was my take on the lovely Maggie Gyllenhaal's (pictured below), who was this week's pick for Inspiration Monday from the ladies at Two Birds. Since the only, lonely maxi dress in my closet is void of color and pattern, I chose a shorter version. This dress is on its way to joining the shirt as a closet favorite.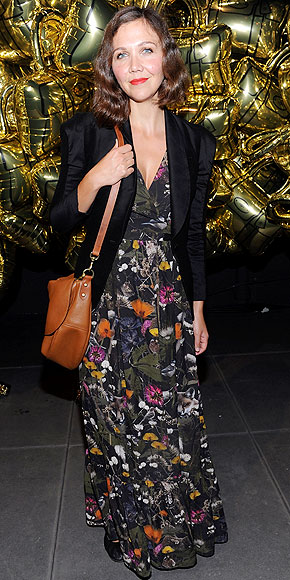 Tell me, have you made the closet switch yet? Or are you blessed with a large enough closet that no switching needs to take place? (Then again, if that's the case, maybe don't tell me. Jealousy is never pretty.)