La mode: It's Monday. Yep. As much as I wish it will stay away every week, it always manages to come back. So far my requests for a three-day work week have been turned down. Imagine that!
Cardigan: Express, gift; blouse: Loft; jeans: Gap; earrings: White House Black Market; necklace: Loft; pumps: Naturalizer
This was my take on Ali Larter's look (below), who was this week's inspiration for Inspiration Monday at Two Birds. I love Larter's mix of dressed-up sequins and casual jeans—they play beautifully off one another. Although my look was for daytime, I echoed her idea of sequins with denim.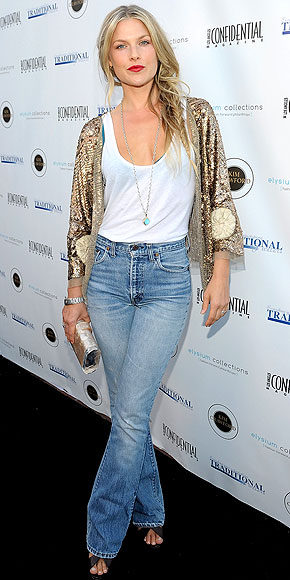 I love mixing pieces that are traditionally more "dressy" with casual pieces like jeans. Combining styles that don't seem to go together is fun and often unexpected, and I love how it makes a dressier item more wearable.