For today's Friend Friday, Katy of Modly Chic asks us what five spring trends we'll be rocking this year. Aside from one pair of sandals, (which I hope will get here soon!) I've been on a shopping hiatus due to lack of funds. But, this month is my birthday month, and my crystal ball tells me that a few of my gifts may be in the form of shopping money. So here are the trends I'm dreaming about in anticipation of spring shopping.
1. That 70s girl. Flare leg jeans, platform sandals, pretty floral tops... I'm loving this trend right now! On my must-have list, a pair of wide leg flare jeans. This pair from Gap will do the trick, thankyouverymuch.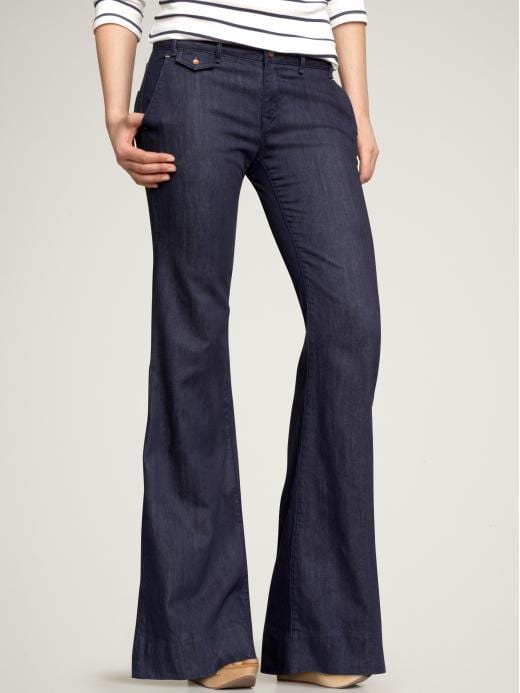 2. Color me happy. Color-blocking is huge right now, and since wearing color always puts a smile on my face, I'm down for this trend. I love this dress from Urban Outfitters, because it's just begging to be worn with colorful shoes and accessories.
3. No bull, Ferdinand: Flowers. I'm not even sure this is a trend, because every spring racks are filled with pretty floral prints. But every spring I'm pretty happy about it, so I'm adding it to my list. I'm head over heels for this floral frock from Ruche.
4. Cream of the Cropped. Cropped, lightweight pants are near the top of my list. I never purchased a pair last year, and now I'm kicking myself for it. They would be perfect for both work and weekends, which makes them even better. I like this pair from Urban Outfitters.
5. Line 'em up! Yes, more stripes. This is a trend that doesn't seem to be going anywhere, and I couldn't be more glad about that. My budget will probably steer me in another direction, but for now I'm daydreaming about this blazer from J. Crew.
Okay 'fess up, what trends are you dying to spring into? (Pun totally intended.)